Event box
Learning to See Poetry Workshop
Online
The Brenda Connor-Bey Learning to See™ Legacy Workshop Series focuses on writing poems about art, and exploring all creative writing, as well as other ways to "see" poetry through the "ekphrastic" style. (Ekphrasis = "Description" in Greek. An ekphrastic poem is a vivid description of a scene or, more commonly, a work of art.) Teachers: Golda Solomon & Robert Gibbons.
Students enroll for a series of three two-hour workshops to be conducted on Fridays, June 3, 10, and 24 from 10:30 AM- 12:30PM. Registering on June 3rd enrolls you for the entire June three-session workshop series. Participants must attend all three sessions.
Partially funded by Poets & Writers, the Friends of Greenburgh Library, and Greenburgh Arts & Culture, workshops are free and open to the public. Beginners as well as established poets are welcomed.
After the registration limit is reached, a Wait List will be formed and registrants will be contacted as spaces become available.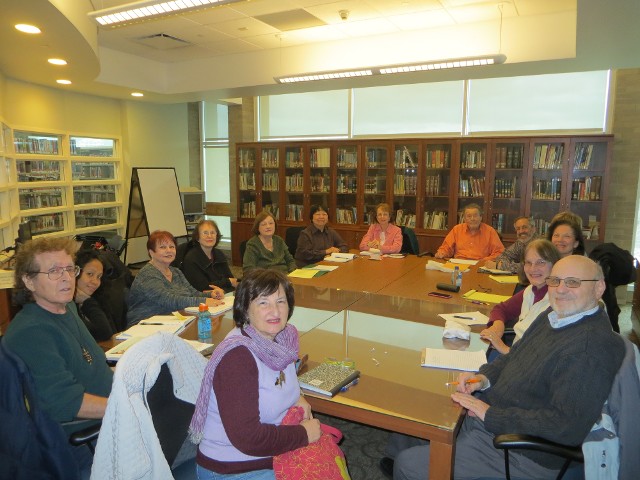 Related LibGuide: Poetry by Christa O'Sullivan
Dates & Times:

10:30am - 12:30pm, Friday, June 3, 2022




10:30am - 12:30pm, Friday, June 10, 2022




10:30am - 12:30pm, Friday, June 24, 2022




Time Zone:

Eastern Time - US & Canada (change)

Online:

This is an online event. Event URL will be sent via registration email.

Categories:
Registration has closed. (This event has to be booked as part of a series)
Golda Solomon is an Adjunct Associate Professor, Borough of Manhattan Community College, CUNY In The Heightsm, and also a poet-in-residence at the Blue Door Art Center in Yonkers, NY, where she established ArtSpeak, ekphrastic writing workshops partially funded by poets and writers. She is also Co-Editor of the Blue Door Quarterly: Journal of Literature and Art. Solomon created and curates Po'Jazz (Poetry in Partnership with Jazz) at The Blue Door Art Center and the Hudson Valley Writer's Center, Sleepy Hollow, NY. As a performing poet, she goes on the road with a fabulous roster of jazz musicians. She's brought her words to festivals and universities in California, Colorado, Pennsylvania, and Washington DC. Recently she was newly honored as Poet Laureate of Yonkers!
Robert Gibbons is a Brooklyn poet and author of Close to the Tree, published by Three Rooms Press. Robert grew up in Belle Glade, Florida, and earned a B.S. in History from Florida A&M. In 2007, he moved to New York City. He has offered his poetic performances in such places as Cornelia Street Café, the Church of the Village, the Saturn Series, Perch Café, Barnes and Noble, Stark Performances, Otto's Shrunken Head, Poets on White, Nomad's Choir, Taza de Café and many others. He is also published in Uphook Press, Three Rooms Press, Stain Sheets, Brownstone Poets Anthology, Dinner with the Muse, Cartier Street Review, Nomad's Choir and the Palm Beach Post.