Event box
Westchester Jewish (virtual) Film Festival - Jacob Burns Film Center
Online
PLEASE NOTE: This event is not affiliated with or sponsored by the Greenburgh Public Library. Any registration required will be made with the third party host. Should you need assistance registering for or participating in this event, please contact the hosting organization.
Step out of your comfort zone, bring friends, relatives, and strangers, and purchase your pass now for the Jacob Burns Film Center 2020 Westchester Jewish Film Festival: Virtual Edition!
This year's series features 12 thought-provoking, captivating, and entertaining films, including cinematic narratives and revealing documentaries from Israel, Hungary, France, Ethiopia, the US, and other countries. Highlights include Asia, the latest phenomenon on the Jewish film festival circuit, which stars Shira Haas of Netflix's Unorthodox in "a hypnotizing performance" (IndieWire) in an intimate daughter-mother story; Aäläm-Wärqe Davidian's stunning narrative debut, Fig Tree, which draws upon her memories of growing up in war-torn Ethiopia; Yaron Zilberman's Incitement, which takes a deep dive into the life of the man who assassinated Yitzhak Rabin; and Hungary's 2019 nomination for Best Foreign Film Oscar, Those Who Remained, which reveals the experience of two Holocaust survivors after the war. This year's festival will close with The Keeper, which tells the extraordinary story of Bert Trautmann, a German soldier and prisoner of war who, despite British prejudice and protests, secured the position of soccer goalkeeper for Manchester City F.C., becoming the embodiment of truth and reconciliation.
"The key to longevity is to interact with other people." With this festival, even as we are still home, we hope to serve that essential cultural food that brings us all a little bit closer together. Carl Reiner
Your festival pass purchase supports the JBFC and our first-ever virtual festival!
Festival Pass Pricing: $60 members; $75 nonmembers (Please note: No tickets to individual films are available—only festival passes.)
By purchasing a festival pass on the JBFC website, you'll have access to all 12 films in the series, each of which will be available for streaming via Vimeo through unique links, with each film available for a specific 48-hour period. There are no in-theater screenings for this festival.
Download and print the film and Q&A schedule for your convenience.
Related LibGuide: Virtual Happenings Outside the Library by Janet Heneghan
Date:

Saturday, October 24, 2020 Show more dates

Time:

All Day Event

Time Zone:

Eastern Time - US & Canada (change)

Categories:

Online:

This is an online event. Event URL: https://burnsfilmcenter.org/virtual-screening-room/2020-westchester-jewish-film-festival-virtual-edition/
The festival will kick off with an opening night virtual conversation between Series Curator Bruni Burres and JBFC Founding Director of Film Programming, Brian Ackerman, on Oct. 14 at 6:00 pm. In this hour-long talk, Bruni and Brian will discuss the films in the virtual festival, the state of Jewish cinema, and more! Please note that this will not be a discussion centered exclusively on the opening night film.
For over 25 years, Bruni Burres has worked at the intersection of arts, culture, and human rights as a festival director and curator, media educator, creative producer, and social media strategist. Burres is a senior consultant with the Sundance Institute's Documentary Program and is the cowriter and associate producer of Beyond My Grandfather Allende, which won Best Documentary at the 2015 Cannes Film Festival. From 1991 to 2008, she was the director of the Human Rights Watch Film Festival.
Save your space: Register now for this free Zoom Q&A!
MY POLISH HONEYMOON
Available Oct. 14 at 10:00 am—Oct. 16 at 10:00 am ONLY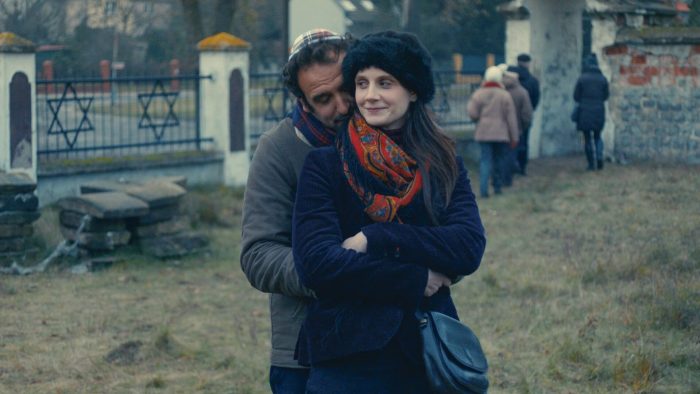 What young Parisian couple wouldn't choose Poland for their honeymoon? When an opportunity to commemorate his grandfather's Jewish village—which was destroyed 75 years ago–arises, Adam and his new wife, Anna, leave their cute apartment and adorable baby with Anna's parents and head off. Adam's mostly looking forward to spending some diaper-free time together, but high-strung Anna is hoping to uncover some of her mysterious family history. This delightful romantic comedy is a very contemporary tale. Winner of the Emerging Filmmaker's Award at the Atlanta Jewish Film Festival.
2019. 88 min. Elise Otzenberger. France. French w/ subtitles. NR.
THE MOVER
Available Oct. 15 at 10:00 am—Oct. 17 at 10:00 am ONLY
Virtual Q&A on Oct. 19 at 7:30 pm with Latvian UN Ambassador Andrejs Pildegovičs
Save your space: Register now for this free Zoom Q&A!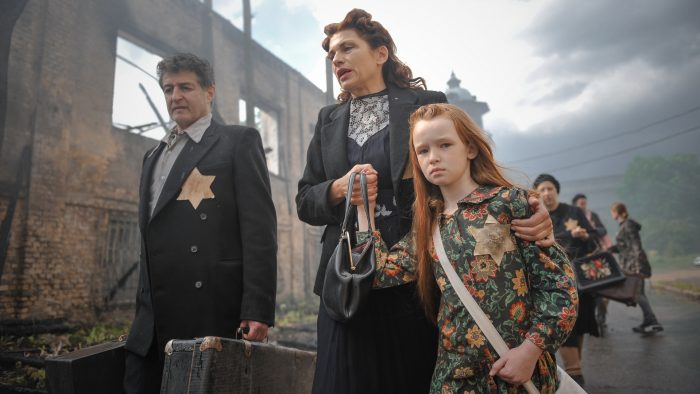 The true story of "Latvia's Schindler," The Mover offers a gripping account of Zanis Lipke, a blue-collar Luftwaffe worker in Soviet- and German-occupied Latvia. Lipke risked everything to save local Jews from Nazi persecution and death by secretly moving them from the Riga ghetto to an underground bunker on his property. From the moment the film begins, director Davis Simanis creates an ominous and suspenseful atmosphere in which the viewer, like Lipke himself, is a reluctant eyewitness to unfolding horrors. Lipke is credited with saving about a quarter of the Jews in Latvia—and is honored as one of the "Righteous Among the Nations" for his heroic deeds.
2019. 87 min. Davis Simanis. Latvia. Latvian w/ subtitles. NR.
Ambassador Andrejs Pildegovičs is the Permanent Representative of Latvia to the UN. He has held the posts of Head of the Middle East and Africa Division, Assistant to the State Secretary, and Press Secretary. From 2000 to 2006, Andrejs Pildegovičs was Advisor on Foreign Affairs to the President and from 2006 to 2007, Chief of Staff at the President's Chancery.
Screening Sponsored by The AJC
ASIA
Available Oct. 16 at 10:00 am—Oct. 18 at 10:00 am ONLY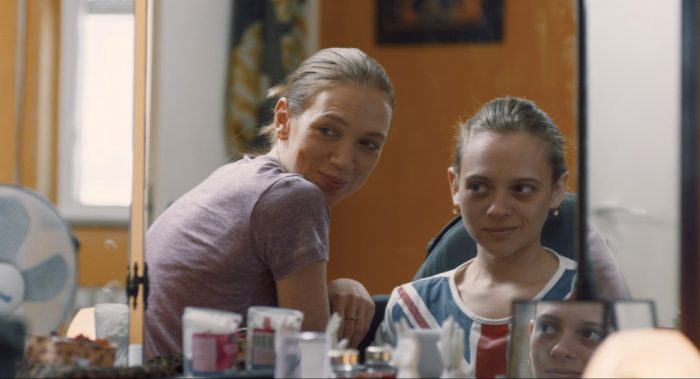 The latest phenomenon on the Jewish film festival circuit is this intimate mother-daughter story of mortality and the bonds of family. Asia (Alena Yiv) is a Russian immigrant to Israel who excels as a hard working nurse, but when she comes home to her teenage daughter Vika, she's far less confident in her role as a mother. The pair navigate a cold, nearly silent co-existence, with Asia struggling to understand motherhood and Vika (Shira Haas, Netflix's Unorthodox), in "a hypnotizing performance (IndieWire)," attempting to rebel from her distant mother. But just as Vika begins to explore the normalcies of teenage life, her sudden deteriorating health forces her into a wheelchair and forces Asia to reevaluate their relationship.
2020. 85 min. Ruthy Pribar. Israel. Hebrew w/ subtitles. NR.
INCITEMENT
Available Oct. 17 at 10:00 am—Oct. 19 at 10:00 am ONLY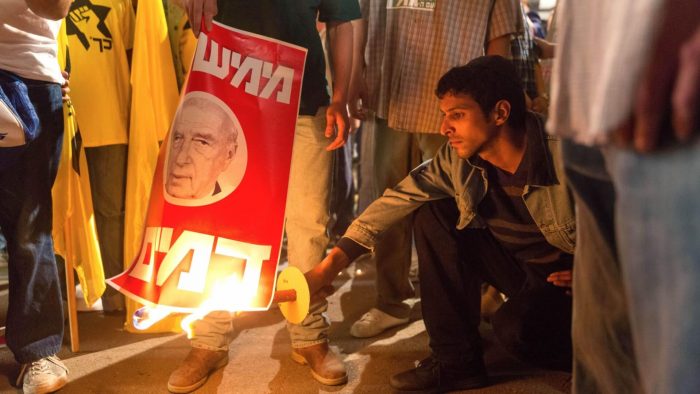 Israeli-American filmmaker Yaron Zilberman (A Late Quartet) has created a riveting cinematic thriller with an exacting gaze. It chronicles the year leading up to the 1995 assassination of Israel's prime minister Yitzhak Rabin through the eyes of Yigal Amir, the man who murdered him. Incitement meticulously presents Amir's world as personal turmoil—conflicts with parents, struggles at college, a failing romantic relationship—plus political activism and religious fervor fuel dangerous extremism. Deftly interweaving staged performance with actual news footage, the film reveals the inner life of a man who grew convinced that he had the right to murder to prevent a peaceful solution in the Middle East. Winner of the Ophir Award for Israel's Best Feature Film of 2019 and Israel's official selection for the 2019 Academy Awards.
2019. 123 min. Yaron Zilberman. Israel. Hebrew w/ subtitles. NR.
BORN IN JERUSALEM AND STILL ALIVE
Available Oct. 18 at 10:00 am—Oct. 20 at 10:00 am ONLY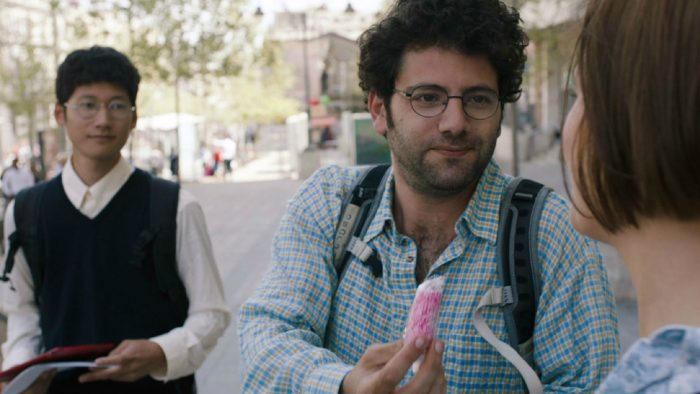 This deft blend of romance and black comedy follows Ronen Matalon (Yossi Atia, also the film's writer and director) as he tries to overcome his fear of terror attacks. One day while walking down Jerusalem's Jaffa Road he hears a tour guide selling a sanitized version of his city's recent history. Fed up with the hypocrisy, Ronen begins his own "Terror Tour," taking tourists to famous bombing sites and emotionlessly sharing the details of all the attacks that took place during the 1990s and 2000s. Asia, an ex-Jerusalemite living in Barcelona, takes one of his tours, sparks fly, and their relationship challenges him to begin healing from the trauma that has been mapping his inner life. Born in Jerusalem and Still Alive is a sensitive and hilarious debut. Winner, Best First Film – Jerusalem Film Festival.
2019. 83 min. Yossi Atia and David Ofek. Israel. English/Hebrew w/ subtitles. NR.
THE ALBANIAN CODE
Available Oct. 19 at 10:00 am—Oct. 21 at 10:00 am ONLY
Virtual Q&A on Oct. 25 at noon with Albanian UN Ambassador Besiana Kadare
Save your space: Register now for this free Zoom Q&A!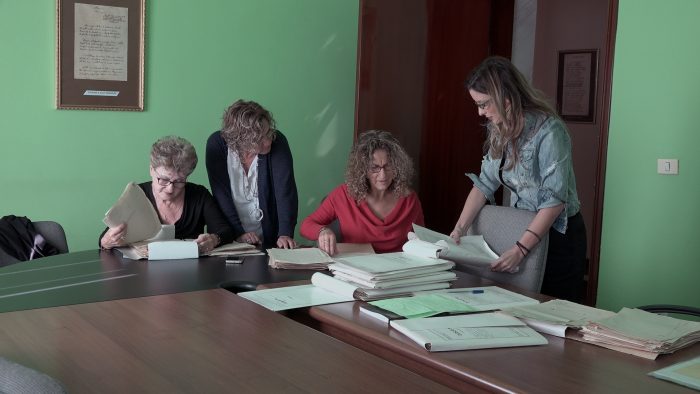 Yael Katzir's beautiful documentary unveils the unknown story of the thousands of Jewish and Christian refugees who were saved in Albania during World War II, which was then a mostly Muslim state. We follow Annie Altaratz-Francis, who survived there after escaping from Yugoslavia. Today, she decides to return to Albania with her daughters and thank whoever she can. On her journey she discovers how this entire nation, bound by a powerful moral code, was the only European land where Muslims showed such courage. The film, filled with surprises, shines a bright light on Albanian culture and carries a universal message of gratitude to human values.
2019. 56 min. Yael Katzir. Israel. Hebrew w/ subtitles. NR.
Ambassador Besiana Kadare is Permanent Representative of Albania to UN. Ms. Kadare was previously Albania's Ambassador and Permanent Delegate to the United Nations Educational, Scientific and Cultural Organization (UNESCO) in Paris between 2011 and 2016.
Screening Sponsored by The AJC
FROM SLAVERY TO FREEDOM
Available Oct. 20 at 10:00 am—Oct. 22 at 10:00 am ONLY
Virtual discussion on Oct. 22 at 7:30 pm with AJC CEO David Harris
Save your space: Register now for this free Zoom Q&A!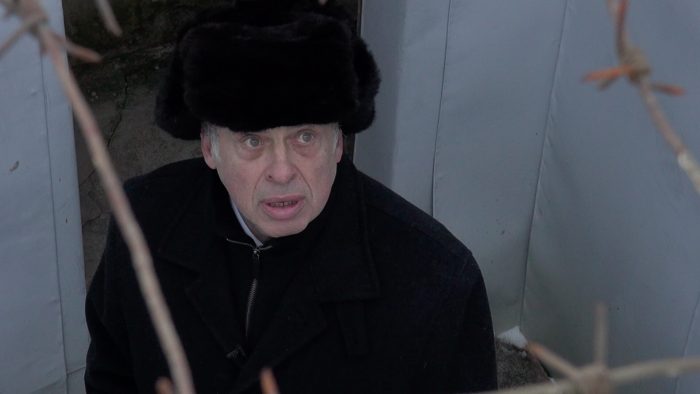 No single person symbolizes the "refusenik" era more than Soviet Jew and legendary human rights activist Natan Sharansky, who courageously defied the Soviet system in his fight for freedom and national identity. In 1977 Sharansky—denied an exit visa to Israel—was arrested on charges of spying for the US, treason, and anti-Soviet agitation, and was sentenced to 13 years of forced labor. After spending years in prison, he ultimately prevailed, paving the way for all of Soviet Jewry. Natan Sharansky will be awarded the 2020 Genesis Prize "for his extraordinary lifelong struggle for political and religious freedoms, emphasizing the relevance of his work in today's world."
2019. 84 min. Arkady Kogan. Go2Films. Israel. Russian w/ subtitles. NR.
David Harris has been CEO of AJC since 1990. He was described by the late Israeli President Shimon Peres as the "foreign minister of the Jewish People."
Screening Sponsored by The AJC
AN IRREPRESSIBLE WOMAN
Available Oct. 21 at 10:00 am—Oct. 23 at 10:00 am ONLY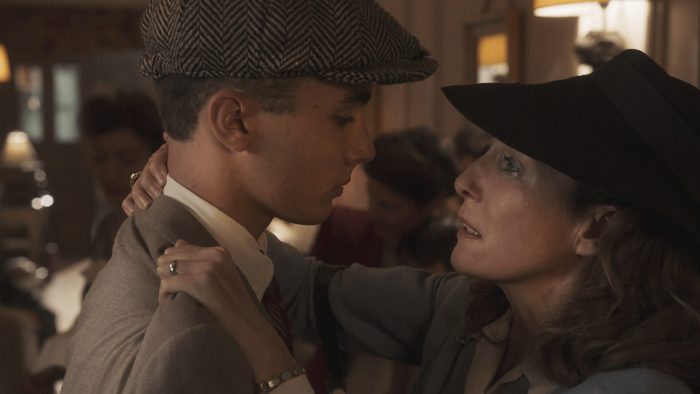 This engaging period piece, set during WWII, centers around France's first socialist Jewish Prime Minister, Léon Blum (Hippolyte Girardot), who served three terms. The young Janot Reichenbach (Elsa Zylberstein) fell in love with the much older, married Blum when she was just 16. She ended up with another man and had a son—but when the Nazis occupy France, she is driven to give up her comfortable life and link her fate with that of her true love, Blum. This beautifully acted recreation of a little-known true story is a stirring tale of love and courage.
2019. 105 min. Laurent Heynemann. France. French w/ subtitles. NR.
CRESCENDO
Available Oct. 22 at 10:00 am—Oct. 24 at 10:00 am ONLY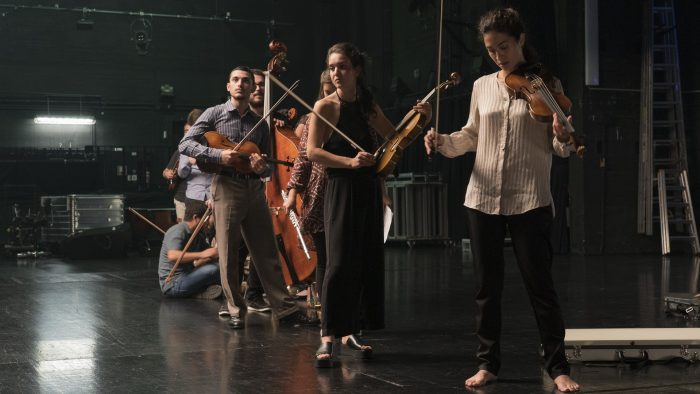 World-famous conductor Eduard Sporck (Peter Simonischek, The Interpreter, Toni Erdmann) agrees to create an Israeli-Palestinian youth orchestra for a very special concert. It's a noble but perhaps rather naive idea, given that the young musicians have been in a state of war, under suppression, or at constant risk of terrorist attacks their entire lives. Can they put aside their fear of and hatred for the "enemy" for even three weeks of rehearsals? Amid rising tensions, the first glimmer of hope appears when the orchestra's opponents give the musicians a chance to show how strong they really are. Israeli and Palestinian non-actors play many of the supporting roles in this affecting film about forgiveness, humanity, and reconciliation.
2020. 106 min. Dror Zahavi. Germany. English/German w/ subtitles. NR.
FIG TREE
Available Oct. 23 at 10:00 am—Oct. 25 at 10:00 am ONLY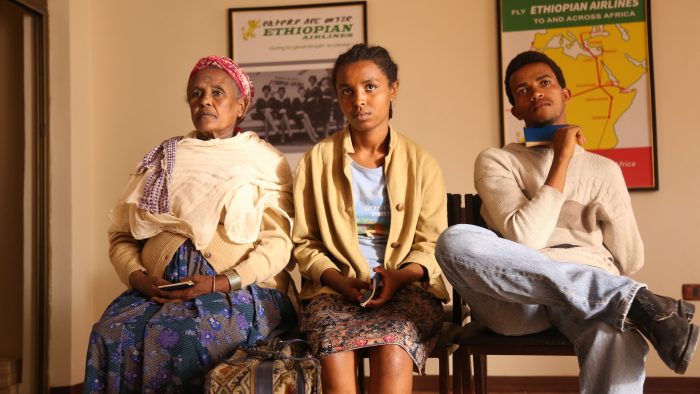 Ethiopian-Israeli writer-director Aäläm-Wärqe Davidian's stunning debut narrative draws on her own memories of growing up in war-torn Ethiopia. It is the mid 1980s, and 16-year-old Mina's country has been fighting a civil war her entire life. Her family is Jewish and planning to flee to Israel, where her mother awaits their reunion. But Mina is devastated when she realizes that joining her mother means leaving behind her Christian boyfriend, Eli, who lives in the woods to avoid being drafted into Mengistu Haile Mariam's army. Filmmaker Davidian's approach is unsentimental but very human as it focuses on Mina's plight, offering us a rare view of the cruel impact of civil war on the lives of ordinary people. Winner, Ophir Award for Best Cinematography.
2018. 93 min. Aäläm-Wärqe Davidian. Various. Amharic w/ subtitles. NR.
PICTURE OF HIS LIFE
Available Oct. 24 at 10:00 am—Oct. 26 at 10:00 am ONLY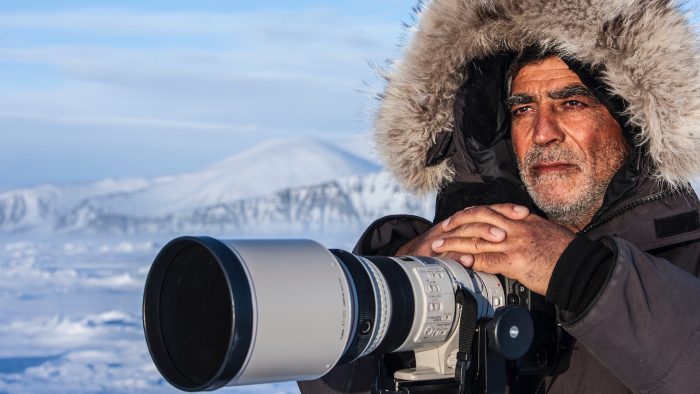 Acclaimed wildlife still photographer Amos Nachoum has swum with and captured remarkably close-up images of crocodiles, killer whales, anacondas, and great white sharks. But his only encounter with the polar bear—the sole major predator to have eluded him—left him barely escaping with his life. As he nears the end of his career, Nachoum is ready to try again. As his careful preparations unfold, he contemplates the events that have nurtured his passion (he says he's "married to the ocean") and helped him find redemption where others find fear. Award-winning filmmakers Dani Menkin and Yonatan Nir (Dolphin Boy) bring us this breathtaking exploration of the inner life of a fascinating man whose service in an elite Israeli commando unit in the 1973 Yom Kippur War helped inspire a lifetime of daring expeditions for National Geographic and others.
2019. 74 min. Yonatan Nir/Dani Menkin. Israel/Canada/US. English/Hebrew & Inuktitut w/ subtitles. NR.
THE KEEPER
Available Oct. 25 at 10:00 am—Oct. 27 at 10:00 am ONLY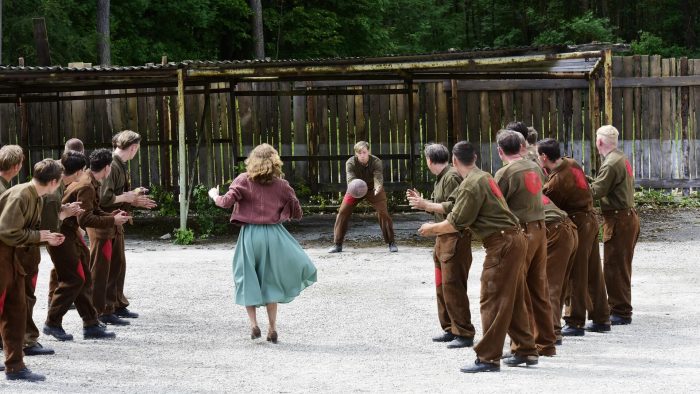 Based on true events, The Keeper tells the story of Bert Trautmann (David Kross), a German soldier and prisoner of war who, despite British prejudice and protests, secures the position of goalkeeper for professional soccer team Manchester City. Trautmann's signing provokes outrage among fans, many of whom are Jewish. But he receives unexpected support from Rabbi Alexander Altmann, a Manchester City supporter who fled the Nazis, who writes, "We treat our neighbor as we would want our neighbor to treat ourselves." Trautmann falls in love with and marries an Englishwoman and goes on to become a soccer icon, famously playing with a broken neck to secure victory in the 1956 FA Cup…but fate soon twists its knife again. Winner of the Audience Award at the Atlanta Jewish Film Festival.
2019. 113 min. Marcus H. Rosenmüller. UK. English. NR.
Oct. 27 Closing Night virtual conversation between Bruni Burres and Brian Ackerman at 6:00pm. In this hour-long talk, Bruni and Brian will recap our first virtual festival, the films screened, and more!
Save your space: Register now for this free Zoom Q&A!
Festival Pass Details:
Pass pricing: $60 members; $75 nonmembers. (Plus online service fees: $5 members, $7 nonmembers, Film Buff Members and above pay no online fees)
Films will be available for streaming via Vimeo through unique links, with each film available for a specific 48-hour period. There are no in-theater screenings for this festival.
Passholders will receive a purchase confirmation and reminders after purchasing their festival pass. Links to the films will be sent to all passholders the day before the festival begins on October 14.
Films may be streamed through Vimeo via your preferred browser or the Vimeo app on your desktop, laptop, tablet, or phone, and may be available for streaming on your TV depending on your home viewing setup. Please note: Some passholders may not be able to view the festival's films on their TV if their home setup does not support viewing with Vimeo.
For specific instructions on how to stream the films in the WJFF Virtual Edition at home based on your setup, please refer to our WJFF Streaming Instructions.
Passes may be purchased online only and are non-refundable.
One festival pass per household needed.
To ensure you have access to all films, please purchase your pass by Oct. 13.
For questions, please contact Membership at 914.773.7663, ext. 6. If we are unable to answer your call, please leave a message and we'll call you back. You may also email us at membership@burnsfilmcenter.org.